Thinking Thursday
August 31 @ 2:00 pm

-

3:00 pm

$15 – $20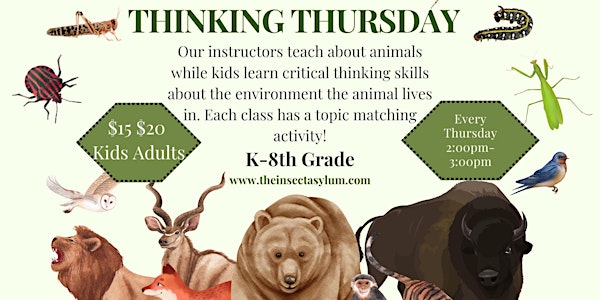 During this event, we will have an animal or insect "Topic of the day," our kid guests will answer thinking questions about nature and the world around us!
For younger learners we offer lifestyle and habitat information about our topic creature and ask the kids, "Why do you think a whale has a blowhole on the top of their head?" "Why do you think the Owl's eyes are so big?" "Why do some wild rabbits turn white in winter?"
For older kid learners we teach about biodiversity, how ecosystems integrate, what migration means for animals and camouflage techniques in nature.
Each week will have a different theme!
We will also do hands-on activity based on our animal or insect that are perfect for all ages! Bring your kiddos to enjoy this awesome learning activity that includes admission to the museum as well so enjoy our touch-friendly museum and shop while you're here!