Queer & Trans Focused Pop Up Closet w/ "Out of the Closet Charity!"
September 10 @ 7:30 pm

-

10:00 pm

$5 – $20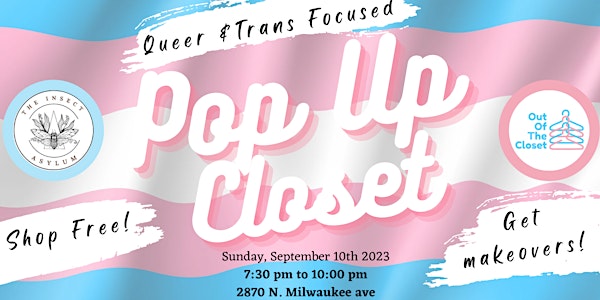 The Insect Asylum is inviting "Out Of the Closet Charity" to bring their Pop Up Closet for a free "Trans-formation" Night Party!
Our nature museum will turn into a trans centered haven full of free clothing racks, makeup and product supply counter giveaways, a beauty bar, and a health service directory.
You are invited to come and shop for free, pick out new looks, get accessories, transform your look with a haircut and makeup application/advice, and take home the clothing that makes your body feel at home. All gender identities are welcome to recieve fashion suggestions, healthcare information, and style services.
Sign up for help with your transition goals by clicking here!
Volunteers provide free hairstyling and barber services, makeup makeovers and fashion advice for your dream look. We are still looking for skilled volunteers to generously provide their services. Barbers, stylists, fashionistas, makeup artists and healthcare providers can join in supporting your community by following the link below.
If you want to volunteer, sign up with us by clicking here!
Guests can bring their own clothing, makeup or hair supplies to get advice from our providers. Feel free to bring your own makup to have our artists use on you. Bring products if you want a consultation on how to use them. Bring shapewear or clothing to understand how to best layer them.
WE ARE ACCEPTNG DONATIONS OF ALL THE BEFORE MENTIONED ITEMS! Drop them off at the front of our museum to help recycle clothing and self-care supplies.
We have 4 tiers of donations on our ticket system as well as a specific donation button for hair and makeup services. Additionally, we have a donation option where you can chose your own donation amount – we strongly encourage you to donate and support our mutual aid efforts if you have the means – all proceeds are directly supporting our team member's gender affirming services.
You can also donate via Venmo, Zelle, and Paypal.
Donate Via Zelle @ theinsectasylum@gmail.com
Feel safe. Feel proud. We love you.
All of our event sales are final, no refunds.